2021 has come to a close, and we're taking the time to look back and think about some of the best projects we got to take on this year. It's been a busy time of growth for Sublime Media Group, so let's get into our 10 favorite projects of 2021!
In no particular order…
1. WKU Football Intro 2021
INTRO VIDEO
When your client asks if you can make it rain, you don't disappoint. We pushed it to the limit with the WKU Football Intro this year and the results were incredible. 
BEHIND-THE-SCENES
This behind-the-scenes video of the WKU Football intro shoot gives an inside look into the hard work and awesome creativity that made it happen. Check it out!
The Tops pulled off an incredible 2021 season with quarterback Bailey Zappe breaking NCAA records in both yards and touchdowns. Watching the Hilltoppers kill it each year is one of the best parts of our job. We're proud to be the Official Video Production Partner of WKU Athletics. 
2. American Bank & Trust Branding Commercial
American Bank & Trust is an awesome partner that we create content for year-round. One of our favorites this year was this evergreen branding commercial that showcased their values and local focus. This video gives a look into just how special Bowling Green is and how community banking gives back to the people it serves.
3. Continental Machinery Movers Rebrand - Website and Logo
Continental Machinery Movers (cmm-ky.com) wanted an impactful rebrand in 2021. We delivered them a fresh new logo and a custom website build that gives clients all the info they need on their unique services. 
We went for a retro badge look for the logo that would be awesome on company apparel, print design, and digital assets. We included one of the lifts in the design at the client's request, along with the year of establishment as a nice callback to Continental Machinery Movers' history of excellence. 
The website's unique build allowed us to get creative, even incorporating the shape of a lift into the description headers. This project was a rewarding challenge and a highlight of the year. 
4. Crocker Law Firm Commercial - "Experience"
With this spot, we wanted to showcase the qualities of Crocker Law Firm that clients desire. This meant highlighting their expertise, how they care for the community, and the size of their team. 
We utilized multiple locations and cinematic shots to tell a captivating story. The result is a short and sweet visual journey evidencing the excellence of Crocker Law Firm. Keep an eye out for fresh new content produced by this partnership in 2022!
5. Salameh Plastic Surgery YouTube Channel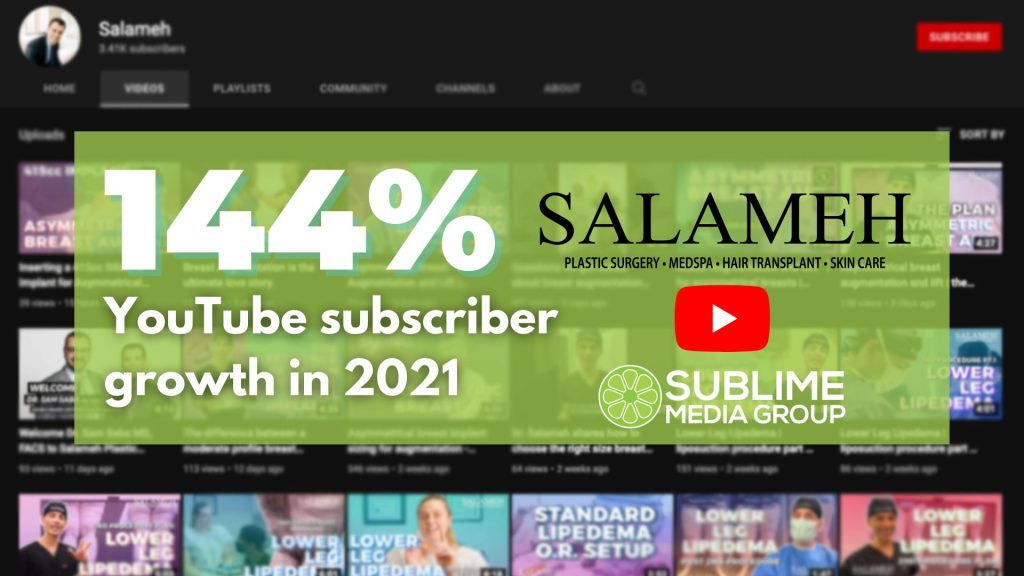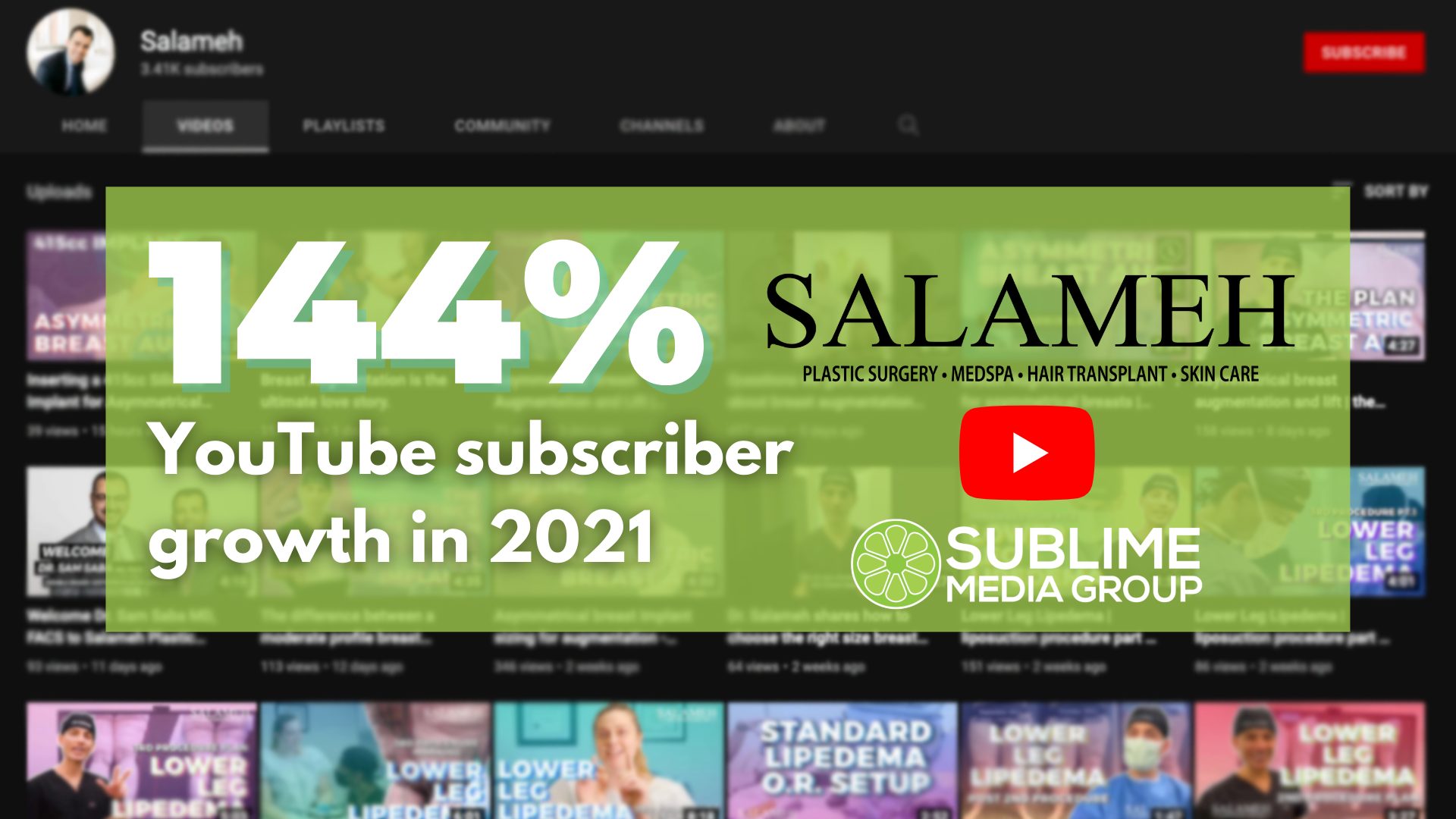 2021 was year 2 of producing 3 videos a week for the Salameh Plastic Surgery YouTube channel. Dr. Salameh provides a unique and informative look into his procedures, and we get to capture his brilliance. 
This year, we were able to grow Dr. Salameh's audience by 144% through constant quality content and targeted ad buys.
We can't wait to keep pushing the boundaries in 2022!
6. Med Center Health - Medical Nutrition Therapy
This commercial for Med Center Health was all about healthy living. The pre-production process was a little more involved with casting, securing necessary locations, and collaboration to make sure we were bringing the team's vision to light. 
One unique part of this commercial is the shot in the supermarket. It's important to capture products without copyright restrictions, and since healthy living means fruits and vegetables, shooting in the produce section with the help of our partners was the perfect fit.
7. Adventures in Apparel Decorating - Zome Design
One of our favorite adventures this year was traveling to beautiful Spokane, Washington to visit Zome Design and learn about how custom lasered leather patches can take unique apparel to the next level. Learning about this exciting process even lead us to witness the World's Largest Red Wagon. 
Season 3 of Adventures in Apparel Decorating begins filming in February 2022, so get excited! 
8. ShirtLab Livestream in Fort Worth, TX
The dream stream team (Austin, Will, and Nick) traveled to Fort Worth in 2021 to live-stream ShirtLab, an exclusive conference event where apparel industry experts share their knowledge.
We streamed 18 hours of conference sessions and captured content to market future events. It was an awesome experience and we can't wait to stream ShirtLab again in Chicago in 2022!
9. Sublime Media Group Sales Booklet
The year wouldn't be complete if you didn't take a little time for yourself, right? The Sublime Media Group team collaborated to create a Sales Booklet that lets anyone explore all the services we offer with the flip of a page. 
The Booklet won gold at 2021's Professional Marketing Association Markie Awards for the best Rackard, Brochure, eBrochure, or Direct Mail. 
Click the button above to enjoy your free download!
10. Stuff the Bus Tornado Relief
The tornado that tore through Bowling Green in December sent waves of tragedy through the community. Stuff the Bus was able to step up and help collect and sort donations for the many needs that came about. We felt privileged to be a part of helping Bowling Green heal and to capture this story to remember in the future.
If you are looking for a place to donate and help those who have been affected by this disaster, we encourage you to visit stuffthebusky.com/donate and know that your funds will stay 100% local. 
Are you ready to take your marketing goals to the next level in 2022? Contact us to learn about how we can create and deliver content that boosts your professional image year-round. 
We can't wait to hear from you!