The Can't Miss Play: Tips for Shooting a Baseball Commercial
Baseball was my sport as a kid. I played for over fifteen years and loved every minute of it. Like most child athletes, I learned pretty quickly that I would never make a career out of my favorite sport. Even though I hung up my cleats a long time ago, Baseball has managed to find it's way into my profession.
I've written and directed commercials for WKU Baseball for the last four years. I try to keep each year's ad fresh with new ideas and concepts. This year we found ourselves with a bit of a scheduling conflict. We ended up only having access to the locker room on our shoot day with WKU Baseball's featured players for 2017. This created a challenge for us and our team had to get creative.
I liked the look of the locker room for a shot or two. The full team posed together, a player getting dressed or maybe taping up a wrist. I didn't like the look of the locker room as a back drop for the entire commercial. Frankly, I thought it would be pretty boring and possibly a little weird. I decided to black out the background and use spot lights for background lens flares. This is a trusty technique we've used several times over the years and it always looks good.
We didn't want to mess with a black wall or fabric (due to time restraints) and took another route. To pull off the look we were going for we needed a lot of light. We busted out our 4′ four bank Kino Flo, three Arri 650 Watt fresnels and a battery powered LED. After turning off the over head lights, we positioned the subjects as far from the opposite wall as possible. Then we blasted them with light. They were really good sports. We were very happy with our final product. The photo below shows how one of the shots turned out.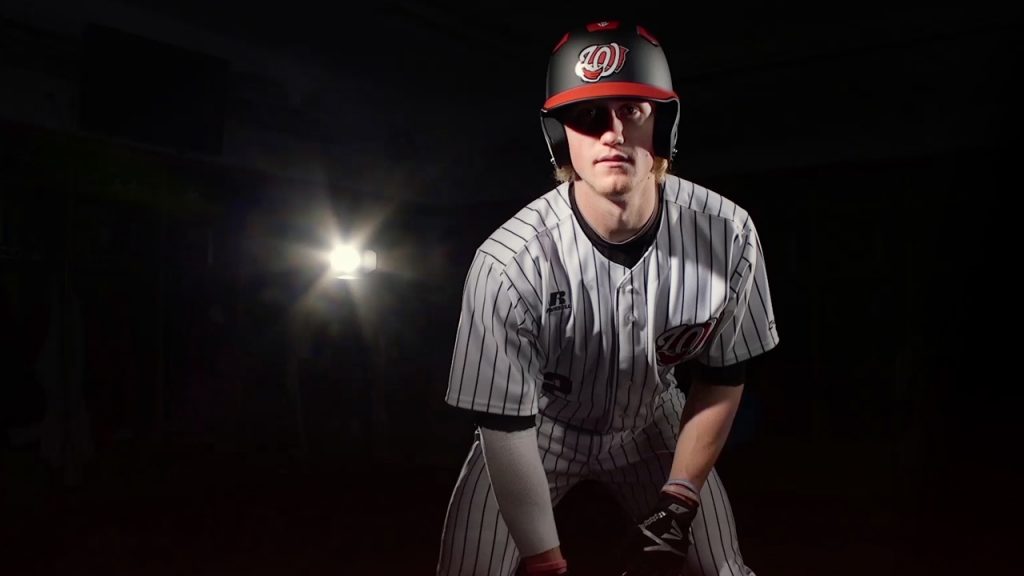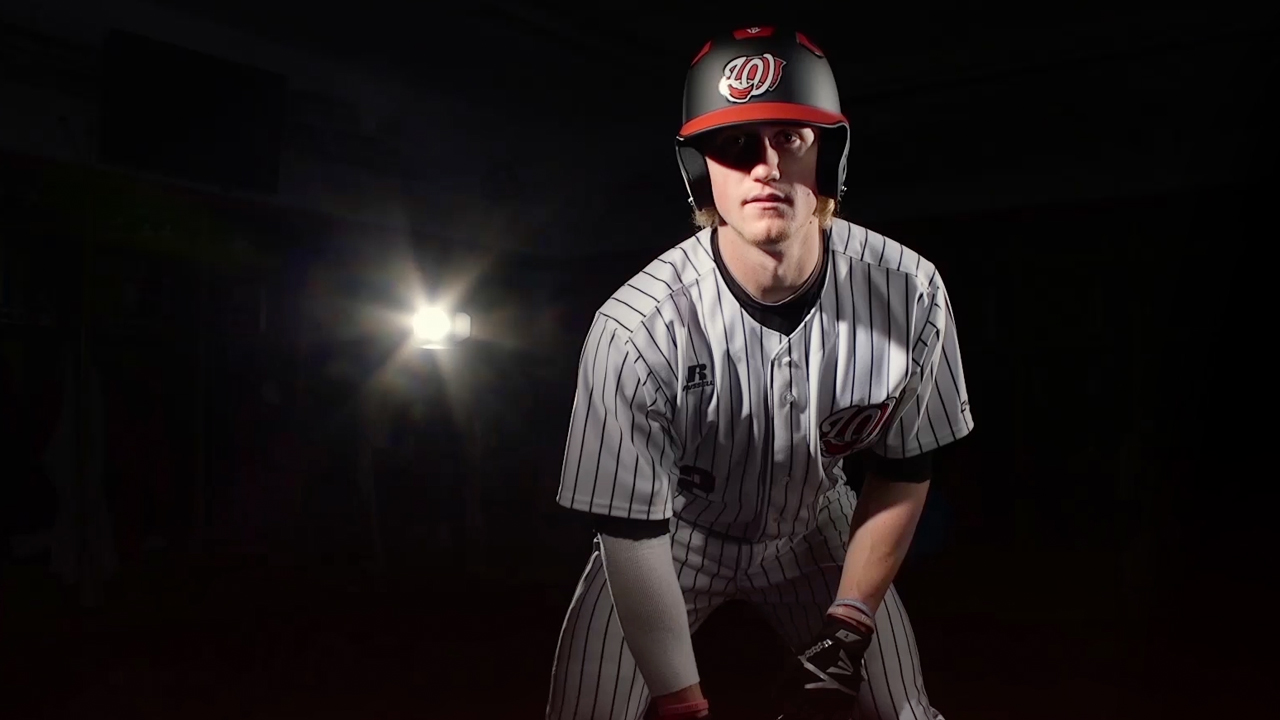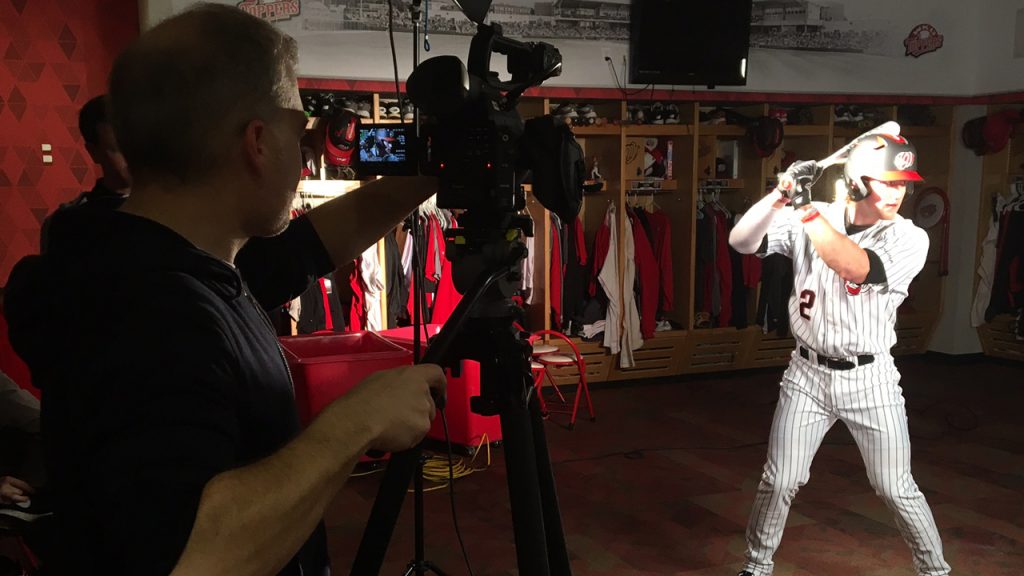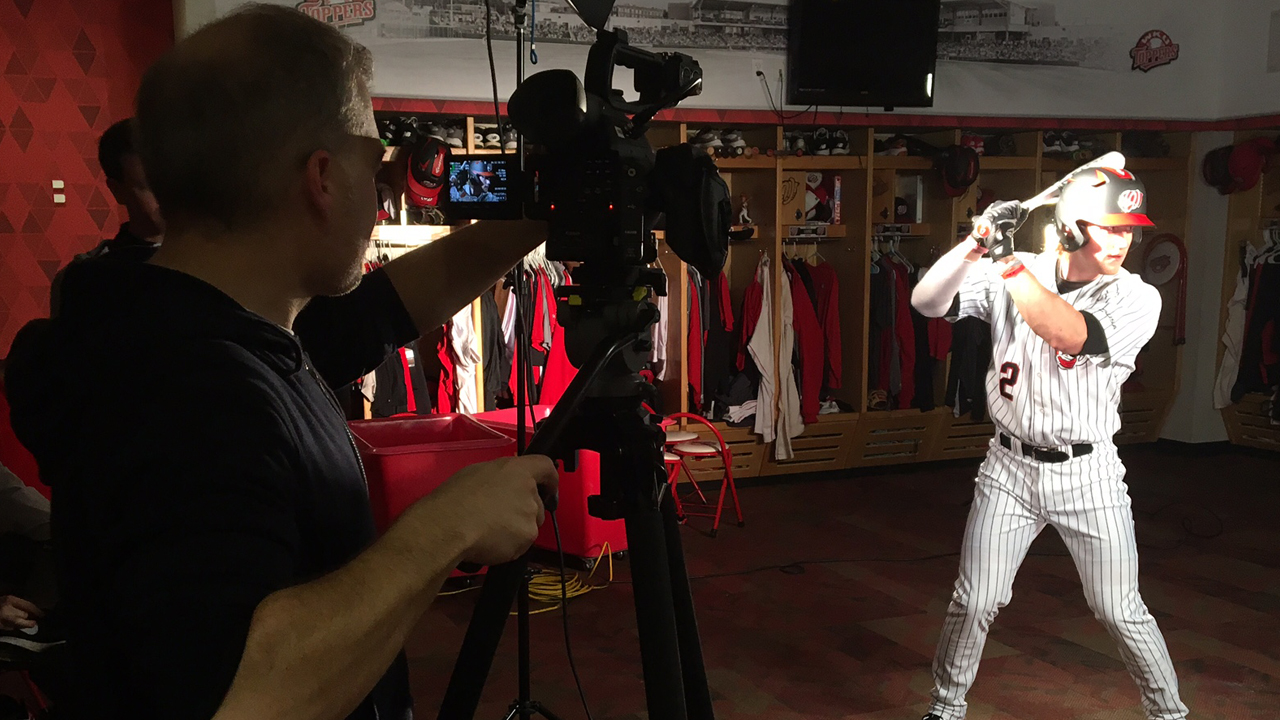 With limited space we decided to shoot at 60fps for the ability to slow down the footage in post. This technique allowed us to throw the ball around a bit, with the viewer not being able to tell how hard/fast it was thrown. Our variety of poses included a close-up ball flying into a catcher's mitt. We poured baby powder in the mitt for a nice cloud effect when the ball was caught. This looked amazing in slow motion.
Several poses were filmed with each of the 5 featured players. A pitcher, catcher, batter, base runner, we highlighted as many aspects of the game as we could. In a locker room. With 5 baseball players. I was happy with what we filmed, but I knew it wasn't going to enough to make a Sublime Media Group baseball commercial for WKU.
Take Me Out to the Ball Game
The WKU Baseball home and season opener was February 17, 2017 at Nick Denes Field in Bowling Green, KY. They started off the season against Valparaiso. With very limited highlights available (due to limited TV time for Conference USA Baseball) I decided to attend the game.
Shooting baseball can be a tricky due to how spread out players are from each other, along with the netting and fence that is usually between you and the action. I brought a monopod, my trust Canon L Series 70-200 zoom lens and a canon C100 Mark II. Close up action shots can be very challenging to get. You have to anticipate the play and know a bit about the game. It always takes me an inning or two to get comfortable shooting. I moved around a lot and captured a lot of good action shots for the project.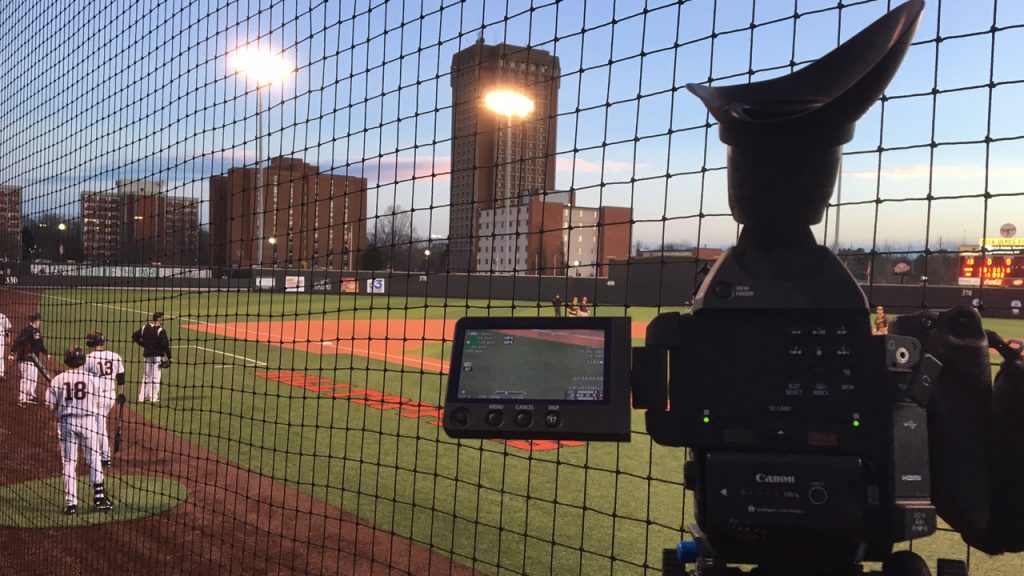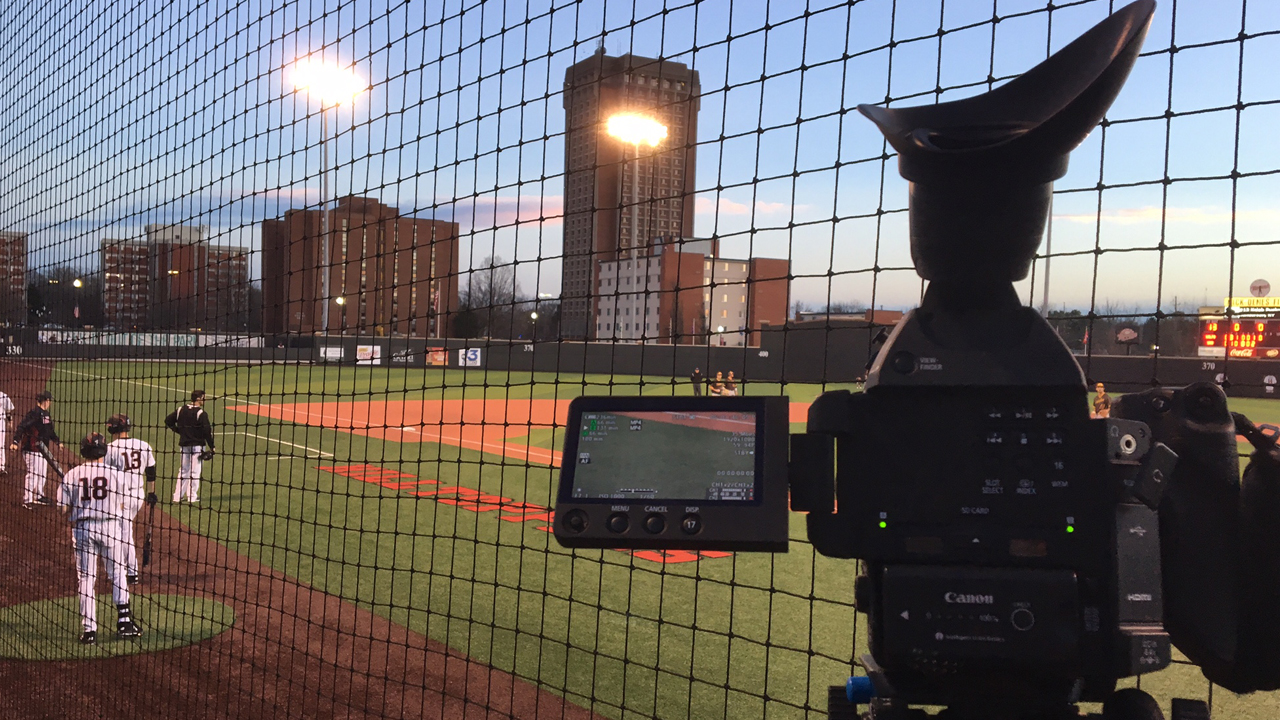 I was meeting my wife for a date night after the game. I didn't plan on staying until the end, but in the 8th inning she let me know that she was running a little behind. I decided to hang around until the end of the game. WKU had led an impressive come back and ended up winning with a Kaleb Duckworth walk-off homerun. It was an awesome ending to a great opening game. Guess who caught the final play on video? This guy. I was so pumped to have a great highlight for the WKU Baseball 2017 commercial produced by Sublime Media Group. It even got a little traction on twitter.
We hope you enjoy the 2017 WKU Baseball Commercial which is a video produced entirely by Sublime Media Group in Bowling Green, KY. It is an ad we are proud of, for a university we love and support. You should definitely make it out to a game this season. It's a lot of fun.