Sublime Media Group Produces Med Center Health Foundation's Virtual Charity Ball Video Livestream Event
2020 has been a very challenging year for businesses and non-profits. We all know the challenges that restaurants have faced, but businesses and organizations that make the majority of their income from events have also faced HUGE hurdles this year. When Sublime Media Group was approached about producing a Virtual Charity Ball for Med Center Health Foundation, our team spent many weeks planning this first ever video livestream production for an event that is the key fundraiser each year for Community Clinic and Dental Clinic in Bowling Green, Kentucky.

Med Center Health Foundation was formed in 2000 for the purpose of serving as the philanthropic arm of Commonwealth Health Corporation. The Foundation promotes volunteerism and philanthropy through community participation and partnerships. The Foundation also funds the Community Clinic and Dental Clinic. These two clinics offer affordable options for people who cannot afford healthcare and dental care on their own.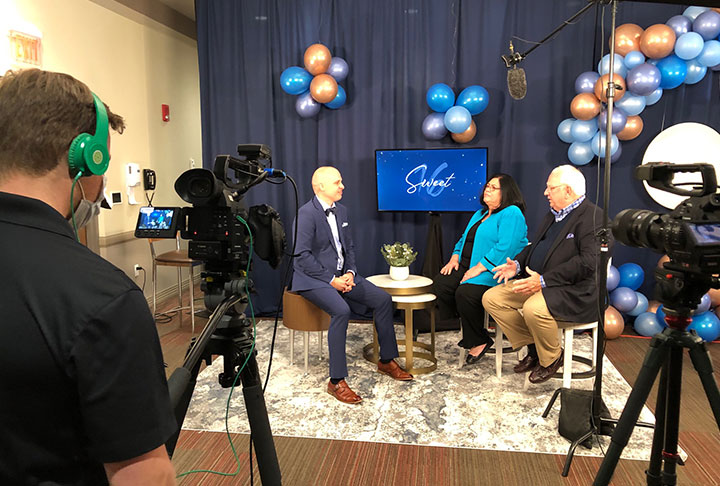 The goal for Virtual Charity Ball 2020 was to raise money from sponsorships and an online auction for Med Center Health Foundation. We also wanted to raise awareness with stories from community partners who give their support each year and people who have been helped by services provided by the Dental Clinic and Community Clinic.
The Virtual Charity Ball Livestream was a mixture of pre-produced video content and live segments that pushed for online auction bids, donations, and announced the winner of a raffle drawing. Our team also incorporated live online auction graphics from Handbid, an online auction service. 
This production was a big undertaking. Our team spent weeks shooting and editing content. We also wanted to build graphics for the livestream that branded the event. The theme for 2020 was Sweet 16. It was a celebration of the 16th Anniversary for Charity Ball. 
Virtual Charity Ball was a huge success
Virtual Charity Ball 2020 had it's challenges, but in the end our team at Sublime Media Group put a livestream video production on the air that we are very proud of. This virtual event raised $244,233 for Med Center Health Foundation. This exceeded everyone's hopes for the first ever virtual event. 
The show open was a lot of fun to shoot and edit. Show host, Stephen Stucy, was amazing to work with again this year. 
Sublime Media Group was proud to be a sponsor of the Virtual Charity Ball. We are also proud to have a produced the video livestream production for this year's event. 
You can watch the full livestream video production below. All of the video content in this livestream was produced by Sublime Media Group in Bowling Green, KY.