Connect with us and stay up to date
On the latest marketing trends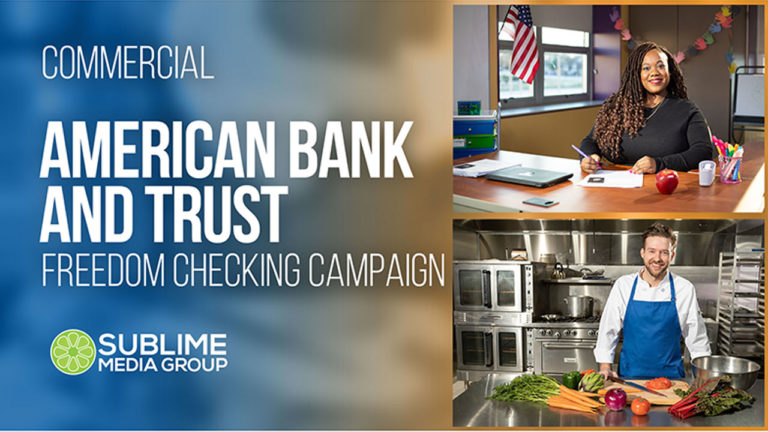 American Bank and Trust's Freedom Checking Advertising Campaign for 2020 was written, casted and produced by Sublime Media Group's marketing and video team. This campaign was created for television and social media. Our social media marketing team manages American Bank and Trust's social media advertising. Watch Video
Sublime Media Group's Content-Driven Marketing Approach
Sublime Media Group is a marketing agency located in Bowling Green, KY. Our content-driven marketing approach utilizes award-winning video production, graphic design and photography to engage audiences using digital and traditional advertising platforms. 
1. Content Creation
VIDEO PRODUCTION
Sublime Media Group has an internal award-winning video production team that will tell your brand's story with cinematic and engaging video content. If you are looking for one or multiple videos, our team will accommodate your needs on time and on budget. Sublime Media Group's video production services are second to none. 
PHOTOGRAPHY
Market your company with high quality photography from Sublime Media Group. Our photographers are experienced with headshot photography, product photography, and commercial photography. 
GRAPHIC DESIGN
Sublime Media Group's graphic designers specialize in graphic design for social media and digital advertising. Our team will help you build your brand and sell your products or services with eye-catching graphics. 
2. Digital and Social Advertising
SOCIAL MEDIA ADVERTISING
Sublime Media Group's social media account managers are skilled at delivering content to targeted audiences. We use analytics and market research to hone in on the best audience for your advertising. With monthly reporting, your business will stay up to date on how your advertising budget is being spent and the results you are getting. 
YOUTUBE ADVERTISING
Video advertising on YouTube is a great way to connect to connect to your audience in a unique and memorable way. You can reach your audience on YouTube by topics, keywords, demographics.  
GOOGLE ADWORDS
Google Adwords is an effective way to increase brand awareness, and it works much faster than SEO. A pay per click campaign could be just what you need to drive traffic to your website for conversions.
3. Website/Landing Page Design
RESPONSIVE WEBSITE DESIGN
If your website isn't fast loading and mobile friendly then you're losing business. It's that simple. Sublime Media Group builds custom websites that convert. Our web team is experienced in a wide variety of website design and creation. Sublime Media Group's websites are secure, stylish, fast loading, and mobile friendly.
LANDING PAGES
A landing page is the perfect way to track ROI with your digital advertising campaign. Track form fill outs, calls, traffic, and retarget your digital ads with a landing page web design from Sublime Media Group.
HOSTING
Sublime Media Group will host and maintain your website on one of our dedicated cloud servers. Sublime Media Group's web design team will update content on your website to allow you to make your business your full focus.
Request a Quote
For your next marketing project